2
January 24, 2014 will mark my 10 year blogaversary.
Ten years of sharing my thoughts with the world. Or ten years of the world being subjected to my mindless drivel. You decide.
I did not start off on this blog. I started off on LiveJournal. If you've been blogging a long time, you probably remember LiveJournal. Remember Friendster and Xanga and AIM, too? Yeah. My college and law school years were lived entirely on LiveJournal and AIM. All those LiveJournal entries are now hidden from public view. Simply: my writing was ridiculous. It's not much better now. But I've got a better handle on the profanity at least.
To celebrate these ten crazy years, I'm going to share ten entries from the past with you. No one will be rushing a Pulitzer to my house for these, but each holds a special place in my heart. Enjoy.
10.      2 little jewish girls trekkin it through South Central
March 7, 2005
We did it! Hari & I ran the LA marathon yesterday!  And I came home to find sooo many people had im'd me that they tracked me on the website, it was so encouraging!! Thank you everyone!!!
The course was through Downtown, South Central, and some other areas. I don't know that entire area very well at all, so it was pretty cool to get to see a part of the city I haven't really explored before.  I grew up outside of LA, so I don't really know much of it at all.
The marathon was rough. Really really rough. I definitely wouldn't have gotten through it without Hari.  We ran the first 6 miles, and then did walking & running after that. Oh, and I puked in my own mouth at the 7th mile. That was pretty foul. (If I puked on the sidewalk, the cameras would have inevitably picked that up, and it woulda been broadcast all along the west coast. I wasn't down with that, so I choked it back down…)
There were SO many people out supporting us, the crowds were amazing. There were little kids lined up all along the race course giving us high-fives!! And there were people out giving us oranges and bananas and water and ice and all sorts of good stuff! I'm talking people who supplied these things on their own, in addition to the rest stops that were officially set up. It was sooo sweet!!! It was SO hot out. Ice has never ever ever been so tasty.  At all the water stops I kept dumping cups of water on myself. There is a big difference between training in 10-30 degree weather, and running a race in 70 degrees.
We came in at 5 hours and 12 minutes. (chip time) Of course i was SO glad to be finished, and SO glad that I finished at all, that I was all choked up and practically crying when we crossed the line (maybe I was crying? I don't really remember. I was WAY tired). We got lots of juice and water, and then sat down for a bit. I was pretty sick and exhausted and miserable.  But sooooo happy.  I'm so glad that we ran this…not so sure I'll ever want to do it again though 😉   We'll be running a 1/2 marathon in Cleveland, and now Hari's saying that we're gonna have to do the New York marathon! (Not this year! Maybe next year….)
Here are some photos I took. The course photos aren't available yet, but you can see the official marathon photo album here.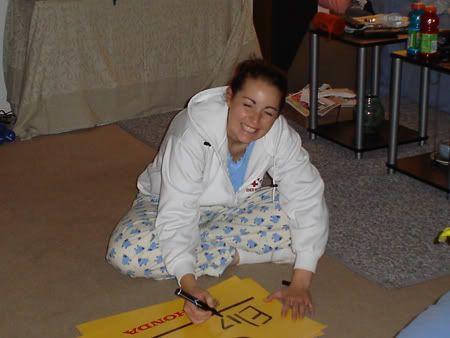 me making our race signs in my jammies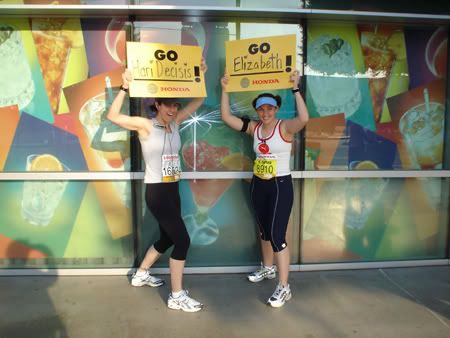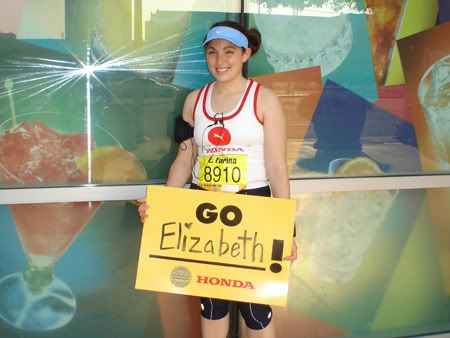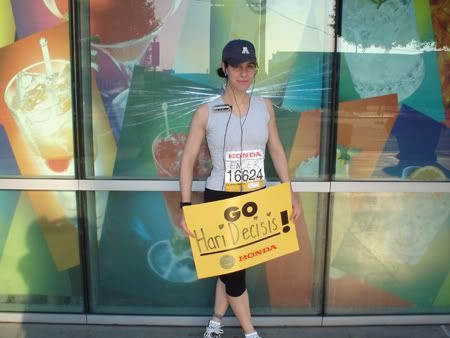 Striking poses in front of the Staples Center. (Notice the background!!)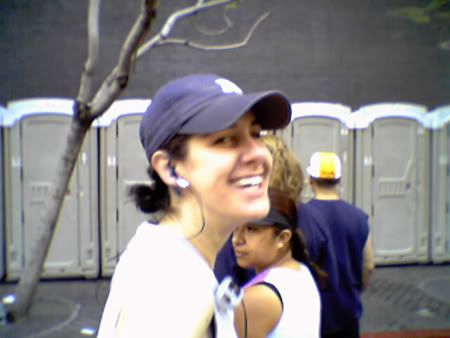 Waiting in the line for what turned out to be the foulest bathrooms in the history of the universe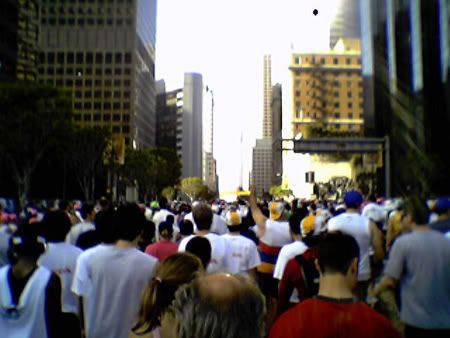 Starting the race!!!
There will be many more photos to come, I have to wait for the race photos to be posted, and for me to develop my film (I might go do 1 hr photo today). Yaaay!